Gaymers of Toronto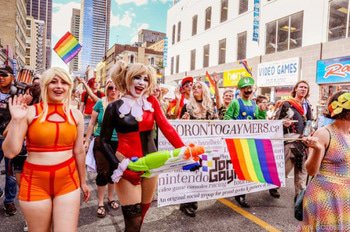 The Toronto Gaymer group is one that was developed back in 2007 and it began with a discussion forum on GayGamer.net. The group has gained must recognition over the years and is now a preferred space for all LGBT people who enjoy gaming. The group not only caters to video gaming, but also supports the love for board games, anime, console games, trading card games and so much more. By offering social events, Toronto's Gaymers is able to strengthen the LGBT community, and they also support local businesses.
Gaymer Events
Every gaygamer is looking to meet up with others that enjoy gaming and the gaming culture, so with the multiple events hosted by Gaymer, Toronto residents and other Canadian geeks and gamers can come together to enjoy days and evenings full of gaming action. Pridehamilton.ca knows of many great events that are scheduled, and Toronto Gaymer is always updating their site with the latest events and meetings. In the past, the group has held some fascinating events that have includes Odd Tuesday Board Games, Youth Events, Board Games Extravaganza, Volunteer Programs, Casual Gaymers Wednesday and more. There are always new events being scheduled, and during holiday seasons, there are often special events and meet-ups so area LGBT members can enjoy the world of gaming. Some of the upcoming events will focus on Christmas and New Years, and there will be board game nights, video game competitions and even previews of new games that are to be released.
Volunteer with Toronto Gaymer
The success of Gaymers relies heavily on volunteers and the group is always looking for fellow gaygamer fans to join in and offer assistance. Volunteers are needed for monthly meetings and events, including video game socials, She Pwnz, Girls Gone Gaming and Board Game Night. The types of volunteers that are always needed are Greeters, Game Attendants, Game Masters and Floaters. All volunteers will be active in the gaming community and will receive a one of a kind Gaymer shirt to show their support of the group.
In addition to the monthly events, Toronto Gaymers is looking for volunteers to help with Community Outreach programs as well as at Pride events throughout the year. Pride volunteers will include Cosplayers, Marchers in parades and Greeters, so there are some great ways to become involved with the group and support fellow gaygamers in the community.
Get the Latest Gaymer News
With so many exciting meeting and events, there is always something new being planned. To keep up to date on the action of Gaymers in the area, be sure to follow Toronto Gaymers on Facebook, Instagram and Twitter. Through these social media platforms, all events will be announced, and there are opportunities for volunteers to sign up and become part of this amazing LGBT group. There are also many events that are posted on Meetup, providing all LGBT gaymers with the chance to meet with others and enjoy the fantastic world of gaming.